Questions
How to order blinds?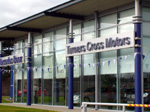 Contact us and we can either make the blinds from your measurements or else we can call out to you and measure, show samples and answer questions. You can also arrange to meet an expert in our showroom. Price varies about 15 to 200 euro per blind depending on blind size and type or 400-1500 euro for advanced blinds.

If you wish to proceed, we will then contact you when the blinds are ready for collection or to arrange an appointment for fitting of the blinds by professional fitters, at a suitable time for you. We usually phone about two working days from date of order.

When fitting is complete, we accept many payment types including Visa, Mastercard, cash, electronic bank transfer, Apple Pay, Android Pay, wireless cards, Maestro, American Express, Diners Club, Discover, Union Pay, bank drafts, cheques, Revolut.

All blinds come with a minimum 2 year guarantee. Some blinds may have longer guarantees including electric 5 years, Velux 3 years, Verosol 3 years.


What specialist blinds are supplied?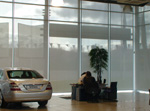 We supply blinds for a wide variety of requirements, including for homes, offices, hospitals and educational institutions.

If you have a particular type of blind you have in mind, please contact us and if we are unable to supply this blind, we will give you an alternative supplier.

Example blinds include:
large roller blinds up to 6.5 meters wide
fitting into shaped, curved and triangular windows
short-notice service including for large orders
complete blackout
fabrics such as heat rejection and anti-glare
roller blinds with logos
motorized blinds and connection to automation systems

What should be considered when choosing a blind?
Personal preference. Roller blinds and venetian blinds are popular in Ireland. Verticals are also popular for patio doors. Plain or subtle textures with light or mid-bright shades are popular.

View outside. Vertical blinds and woodslat blinds have narrow openings through slats, while most other blinds such as rollers and pleated have one opening. Screen fabrics allow a view through the cloth while providing daytime privacy.

Room. For example blackout blinds for bedroom or cinema room.

Safety. Cordless blinds such as motorised are safest. All our staff are trained in child safety. Heavy blinds should be fitted onto strong foundations. Plasterboard especially on a roof is less sturdy than mounting onto concrete, flint or metal frame.

Price. Roller and aluminium venetian blinds are lower cost. Romans are higher cost due to greater quantity, type and complexity of materials.

Glare control. Sun-reflective fabric such as Verosol has a metalised backing that can allow a view outside yet gives protects from sunlight glare and excess heat.

Options. Each type of blind has a number of options such as remote control, logos, heat-reflection fabric.

Privacy. Rollers, romans or pleated have the highest privacy, especially with blackout fabric and side channels or made larger than the window.

Interior design. For example romans or a heavy curtain that gathers on floor can complement a period home.

Tv% (Visual Light Transmittance) factor. This helps compare how much light will enter the room and takes into account fabric colour, thickness, weave density and coatings.

Fit. Usually blinds are fitted into the window recess. We also supply blinds specially made for tilt and turn windows that move with the window. Or fit outside the recess.

Energy use. For improved insulation and cost savings, options include Verosol blinds, Ziptex and cellular pleated blinds as well as traditional roman blinds and curtains.

Hygiene. In bathrooms, anti-mildew textiles will help preserve the blind appearance. Venetian blinds require regular cleaning because their surfaces face upwards so dust will land on the surface more regularly. Specialist anti-microbial blinds are ideal for hospitals

Availability. Most blinds can be fitted within 0 to 3 days. Some blinds may have longer waiting time such as pleated.

Outside appearance. For example, different color fabrics can be made to appear the same color from outside the building, for a uniform look.

Window orientation and size. North-facing windows may require less glare and heat protection but large untinted roof windows may require more sun protection

Health. For example Verosol fabrics are certified for non-toxic materials (Oeko-Tex standard 100) especially relevant if there is a fire. Formaldehyde and PVC free. Flame retardant, compliant with IOS 140001, the international environmental standard and Greenguard certified

Sustainability and the environment. For example FSC-certified venetian blinds and natural textiles are more sustainable in the long term.

Acoustic absorption. For example shutters and acoustic fabrics will help with noise pollution from outside. Also sound absorption can reduce the harsh reverberation from sound inside the building associated with glass paned windows, softening the sound of a space and making for a more comfortable environment for living and working

Operating conditions. Will the blinds be exposed to dust, air pollution, smoke, humidity? In the long run, these may affect functionality and appearance of some types of blinds, so choices need to be carefully considered

Ultraviolet light. UV light can fade furnishings and affect skin over time however blinds such as roller blinds with high-specification fabric will help stop UV light

Heat gain. Large glass areas can create very hot rooms during sunny weather however external blinds prevent heat entering or internal blinds such as Verosol with aluminium can reflect heat back outside

Domestic or commercial. Commercial buildings will have more emphasis on productivity benefits of the blind and fabric selection

Quality. For example some fabrics may be unsuited in large tensioned blinds or where heat levels change because the fabric may become stretched over time. Even though the fabric is cheaper at time of purchase, the overall cost of ownership is high if the blind does not function properly or begins to look ugly and needs replacing or fixing

Time of use. The times of day in which room will be occupied as well as how long people will stay there will determine if some factors are more important than others.

Alternatives. Smartglass, eaves, awnings, brise soleil, external blinds, curtains, frosted and tinted glass are alternatives or can compliment internal window blinds installation.


How can I keep blinds in good condition?
If vacuuming, use low-suction power plus an extension tool with a soft brush.

Rub dirt gently using a damp cloth. Optionally use mild detergent such as babywipes for fabric blinds. Test on an inconspicous area first. After, rub the area gently with a damp sponge. Be careful not to crush or wrinkle fabric. Allow blinds to dry thoroughly in a ventilated, shaded area. A thorough clean after lengthy use or when badly soiled can be carried out by a specialist cleaning firm for example using ultrasonic cleaning.

Blinds should be kept away from excess moisture, smoke and deep-fat fryers.

For all venetian blinds, when raising or lowering the slats it is best to keep the slats in the open position while supporting slats with the other hand. All wood venetian slats will snap if bent, while aluminium venetians will crease.

For roller blinds with a spring, the blind should be raised and lowered by pulling on the cord straight down, not to the side. If the tension in the spring is gone, lower the blind with the cord and take the blind out of the brackets. Then roll the blind up by hand and put the blind back into the brackets.

For roller blinds with chain operation where the fabric is pulling to the side, put a slip of material such as masking tape on one side under the fabric on the opposite side of the blind.

Avoid using too much force when operating blinds. Avoid letting the blind drop in an uncontrolled way.
How to take window blinds down?
For rollers with spring operation, lift the blind gently upwards along the path in the bracket. On older roller blinds with a chain, on the end without the chain, pull the white clip at the nib.

For wooden blinds, the fascia board covering the top metal frame pulls straight off as it is held on by Velcro. Then unclip the front hinged metal doors holding the blind in place.

For vertical blinds, where the bracket is holding the rail just above there is a small silver screw. Loosen the screw. On some rails without a screw, the rail can be clipped out of the brackets.

For romans, pull back the velcro at top of blind and clip the rail out of the brackets. Push the top of the bracket.

For Verosol standard friction with chain on the side, on the opposite side to the chain there is a circular movement mechanism that connects onto the bracket. Twist this downwards and a hole will appear that you can slide the blind out from. For Verosol cassette blind or pleated, at the back of the blind where the bracket is holding the blind on, there is a very small lip. If you push the lip up with a screwdriver, the blind should release.